About the SAINTS KICKOFF RUN
Event Date:
Saturday, September 9 2017!
The 2017 SAINTS KICKOFF RUN starts outside the Mercedes-Benz Superdome in Champions Square, continues down Poydras Street and through the French Quarter before runners return to finish ON THE FIELD AT THE 50 YARD LINE!
PARTICIPANT PERKS
Start at Champions Square
Receive a technical race shirt and a commemorative finisher's medal
Enjoy a post-race tailgate party in Champions Square
Packet Pick-Up

Thursday, September 7th – 11:30am-7:00pm
8843 Veterans Memorial Blvd, Metairie, LA 70003
Friday, September 8th – 11:30am-5:30pm
Opening Act – Champions Square
Lasalle Street, New Orleans, LA 70113
Team & Group Pick-Up
NEW this year! We will have a separate table at packet pick-up for Team & Group Pick-Up. Bibs will be preassigned and ready for quick pick-up according to the information provided on the form. Please come prepared with copies of the photo IDs of every participant you are picking up for. Follow signs for Team & Group Pick-Up at packet pick-up.
---
Notes for Packet Pick-Up
Please print your registration from the order confirmation email or pull it up in the Eventbrite app on your mobile device to make sure you are ready for packet pick-up. Here are ways to find you registration.
Bring your photo ID to receive your race materials. If you are picking-up for a friend you MUST have a copy of their photo ID, NO EXCEPTIONS.
---
Parking
Parking will be available in the Mercedes-Benz Superdome Garages. This pass will allow you to park in the Mercedes-Benz Superdome Garages on race day. If you pre-pay for parking you MUST pick-up your pass at packet pick-up. All vehicles will be required to have a pass or pay $10 (CASH ONLY) at the garage entrance. Only one pass per vehicle is required so we strongly encourage carpooling!
Absolutely NO REFUNDS on pre-paid parking passes.
---
Saints Fan Insider
If you have raced at the Saints Kickoff Run before, you know it's more than just a 5K. The events within the event are where all the fun happens.
---
Course Map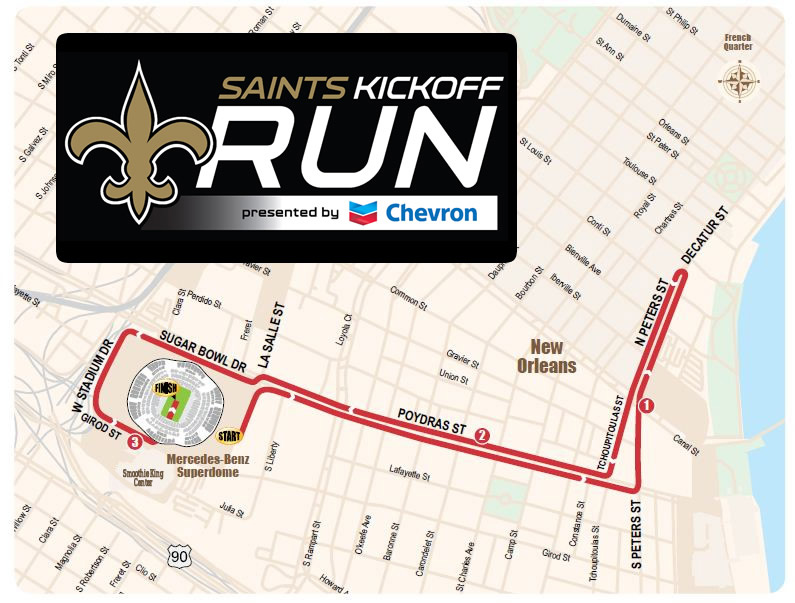 ——————————
Want to be a part of the Saints Kickoff Run Finish Expo? 
Find out more information here or email contact@easydaysports.com.
2016 Hotel Partners
New this year! The Saints 5K has partnered with hotels to offer exclusive rates to runners during the weekend of the race.
The official host hotel of the 2016 Saints 5K is the Hyatt Regency New Orleans. In addition, The Whitney Hotel will have a runner courtesy block reserved.
Hyatt Regency New Orleans
601 Loyola Avenue, New Orleans LA 70113, US
The Whitney Hotel
610 Poydras Street, New Orleans LA 70130, US
---